Houston #1 for Standard of Living, Debunking the 15 Minute City, and More
Our featured item this week is this detailed Stanford study that backs up what I've been saying for years: Houston offers the highest standard of living in the country (discretionary income after costs), especially among growing cities. After opening the pdf, search the word 'Houston' and look at the Consumption column to see how much higher it is than most other cities for households in different income ranges. Hat tip to George.
Moving on to some other items this week:
"The struggle to solve homelessness is getting harder nearly everywhere. Yet recent years have still seen many more victories than defeats. And the biggest victory is in greater Houston, which over the last decade has cut homelessness by more than half.
Houston's story holds lessons for Los Angeles. The chief one is that solving homelessness is less about economics than about strategic clarity and execution."
'Even a prominent urban economist like professor Ed Glaeser has been sufficiently alarmed by the spread of the 15-minute mania that he felt obliged to comment on it. In a blog, he wrote that the 15-minutes city "should be recognized as a dead-end which would stop cities from fulfilling their true role as engines of opportunity."
"What matters is that housing shortages may be the biggest problem facing our era, and solving it needs to become everyone's highest priority….
If we're right about this, it means that fixing this one problem could make everyone's lives much better than almost anyone realises – not just by making houses cheaper, but giving people better jobs, a better quality of life, more cohesive communities, bigger families and healthier lives. It could even give renewed reasons to be optimistic about the future of the West."</p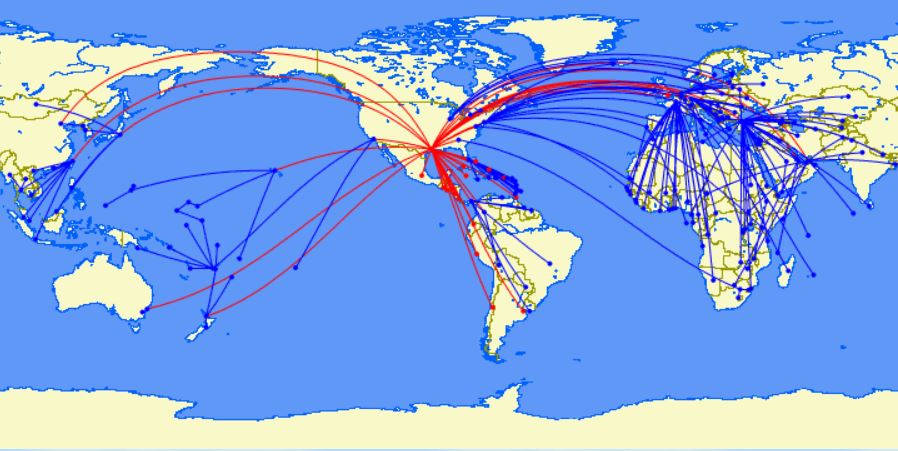 Finally, a fun item to conclude with: a cool map a friend of mine made with how to fly from Houston to every capital city in the world either nonstop (red) or connections (blue). Almost all can be reached with a single connection except for a few in the South Pacific (thru LAX+Fiji). We are a very well-connected city in the global economy.
This piece first appeared on Houston Strategies.
Tory Gattis is a Founding Senior Fellow with the Urban Reform Institute (formerly Center for Opportunity Urbanism) and co-authored the original study with noted urbanist Joel Kotkin and others, creating a city philosophy around upward social mobility for all citizens as an alternative to the popular smart growth, new urbanism, and creative class movements. He is also an editor of the Houston Strategies blog.
https://urbanreforminstitute.org/wp-content/uploads/2018/08/houston-battle.jpg
854
1280
Tory Gattis
/wp-content/uploads/2020/03/URI-logo-claret.png
Tory Gattis
2022-02-07 19:21:37
2022-10-05 11:13:30
Houston #1 for Standard of Living, Debunking the 15 Minute City, and More