The URI Next American Cities Report, Texas MUDs as a Model
Our featured item this week is the release of our newest report from Urban Reform Institute: The Next American Cities:
"The urban form has shifted throughout history. This has been critical to its success. Today we are on the cusp of another transition, ushered in by new technologies and changing demographics, and accelerated by a devastating pandemic. Although these forces affect all geographies, the best chance of success and growth lies in what we define as The Next American City.
This newly released report from Urban Reform Institute examines the places that offer opportunity for a revitalized American Dream for more citizens."
The Kinder Institute for Urban Research at Rice University even mentioned and endorsed our report in their recent article, "After 20 years, the center of Harris County's population has moved outside the Loop":
"The Urban Reform Institute, which advocates for market-oriented city planning, recently argued that the new models for American city living are developer-designed suburb and exurb communities such as The Woodlands, Bridgeland and Cinco Ranch, and there are a lot of reasons to suggest they are right. Development ever outward will almost certainly continue, particularly in Houston where there are no constraints and plenty of land.
Adding to the expectation for further suburban expansion are the evolving norms around remote/hybrid work, meaning long commutes will be less of a drawback for some workers. Looking even further forward, technologies such as autonomous vehicles could actually encourage more sprawl, which researchers are beginning to anticipate.
The pandemic certainly accelerated this trend. Based on our estimates from USPS data, tens of thousands more Houstonians left the city than moved here in 2020, and most of the move-outs stayed in the metro area, opting to live in one of the suburbs instead."
It also includes a section from me on the Texas MUDs model of development.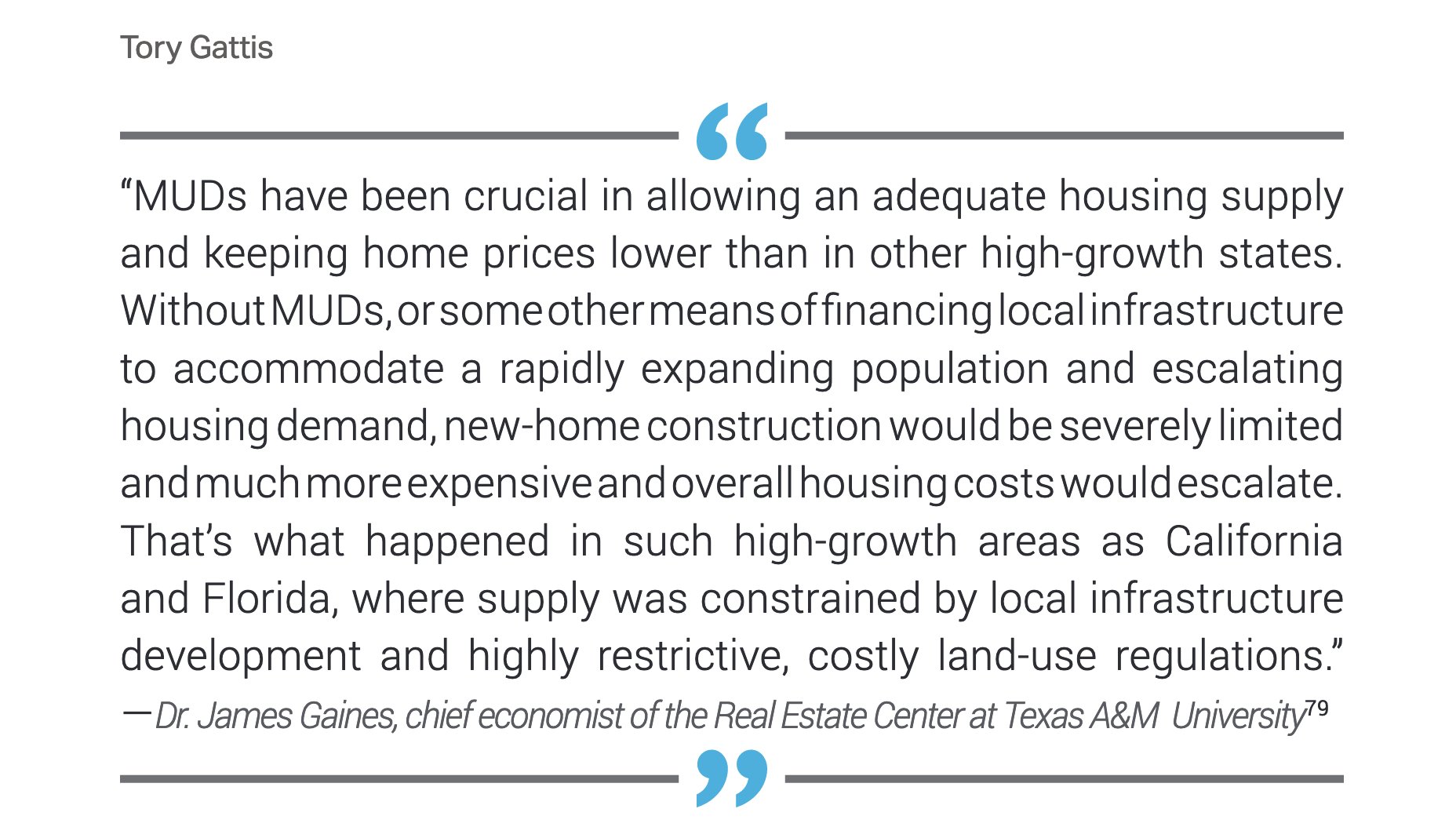 Read the rest of this piece on Houston Strategies.
Tory Gattis is a Founding Senior Fellow with the Urban Reform Institute (formerly Center for Opportunity Urbanism) and co-authored the original study with noted urbanist Joel Kotkin and others, creating a city philosophy around upward social mobility for all citizens as an alternative to the popular smart growth, new urbanism, and creative class movements. He is also an editor of the Houston Strategies blog.
https://urbanreforminstitute.org/wp-content/uploads/2022/01/MUDS-quote.jpg
1054
1856
Tory Gattis
/wp-content/uploads/2020/03/URI-logo-claret.png
Tory Gattis
2022-01-31 18:44:04
2022-10-05 11:14:12
The URI Next American Cities Report, Texas MUDs as a Model