Texas' Burdensome Licensing Requirements
The Archbridge Institute recently released its 2023 State Occupational Licensing Index, which analyzes the burden of occupational licensing on workers and businesses in each state. The report found that occupational licensing remains a significant barrier to entry in many professions, with Texas ranking as the 18th most burdensome state for licensing requirements despite recent attempts to address overly burdensome occupational licensing.
In Texas, the report found that 34.1% of the workforce is licensed, with an average licensing fee of $289 and an average training requirement of 345 days. The state ranks as the 28th most burdensome for training requirements and the 20th most burdensome for fees.
The report notes that while Texas has made some efforts to reduce licensing burdens in recent years, there is still room for improvement.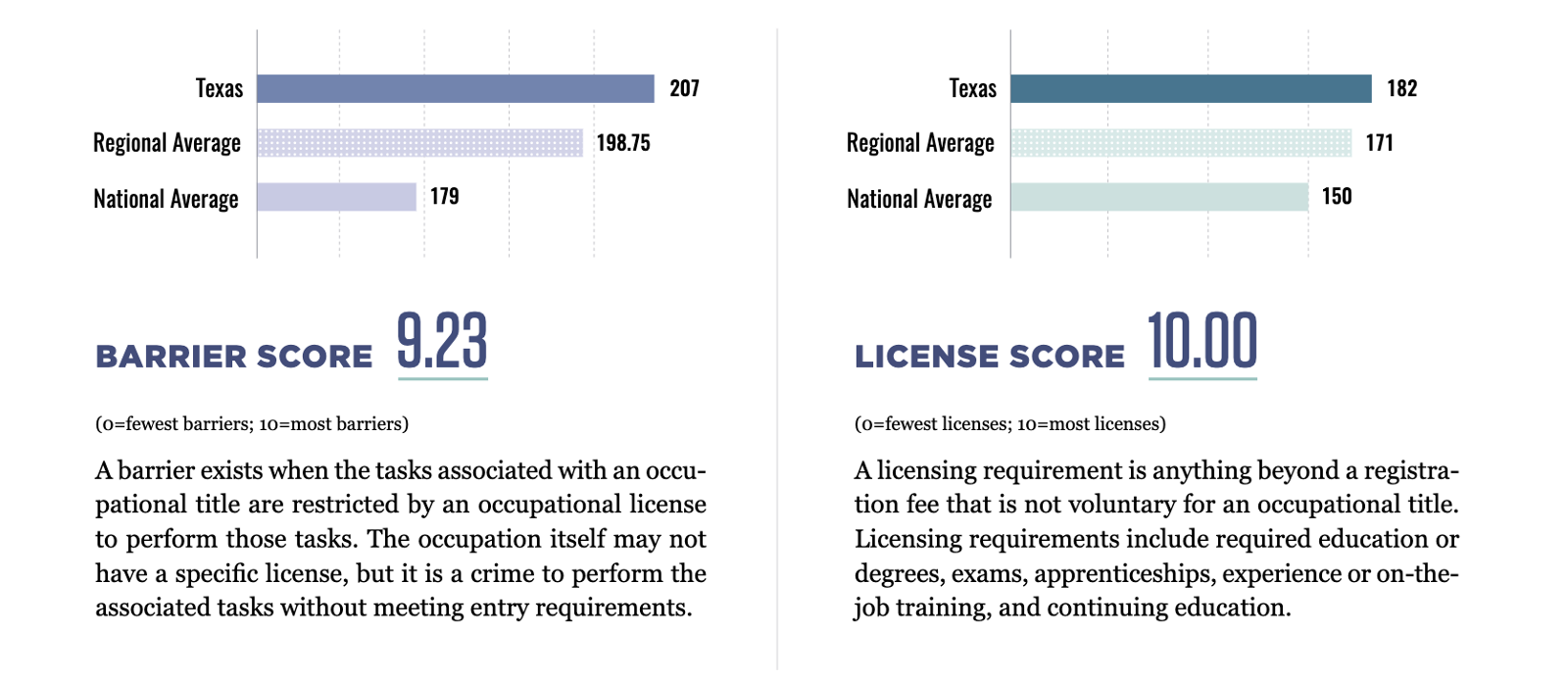 The report also highlights specific professions in Texas that are particularly burdensome to enter due to licensing requirements.
Texas has the 9th most burdensome licensing requirements for cosmetologists, with an average training requirement of 347 days and an average fee of $270. Texas also has the 10th most burdensome licensing requirements for athletic trainers, with an average training requirement of 675 days and an average fee of $357.
The report's findings have implications for both workers and businesses in Texas. For workers, the burdensome licensing requirements can limit job opportunities and make it more difficult to enter certain professions, potentially stalling their personal economic growth. This can also lead to higher prices for consumers as fewer people are able to compete in the market.
For businesses, the licensing requirements create barriers to entry and limit competition leading to a less dynamic and innovative marketplace, as well as higher prices for consumers. The report recommends that policymakers in Texas and other states consider ways to reduce licensing burdens while still maintaining public safety and consumer protection.
Charles Blain is the president of Urban Reform and the Urban Reform Institute, both of which focus on researching and promoting free-market policies to foster upward mobility for those living in major metro areas. Blain has been published in the Wall Street Journal, City Journal, Forbes, the Houston Chronicle, the Hill, Wired, and HuffPost. He serves on the governing board of the Prison Entrepreneurship Program and the boards of Texas Families First, Good Policy Society, and Entre Capital, a commercial lender for businesses started by ex-offenders. In September 2021, Blain was appointed to a four-year term to the Texas Advisory Committee to the US Commission on Civil Rights.
https://urbanreforminstitute.org/wp-content/uploads/2023/03/texas-licensing-burden.png
694
1600
Charles Blain
/wp-content/uploads/2020/03/URI-logo-claret.png
Charles Blain
2023-03-31 10:23:01
2023-03-31 10:23:01
Texas' Burdensome Licensing Requirements