Preventing big infrastructure failures, mass migration to Texas and more
Lots of backlogged smaller items to clear out this week, especially from my Twitter feed (which you may want to follow if you're a Twitter user).
Honolulu light rail from $4B to $11.4B
CA HSR from $33B to $100B
NYC East Side Access extension for LIRR from $2.2B to $11.1B
Washington State nuke plant from $4B to $17B
"Honolulu's tribulations are far from a lone cautionary tale. To the contrary, they signal the kind of cost overruns, engineering challenges and political obstacles that have made it all but impossible to complete a major, multibillion-dollar infrastructure project in the United States on budget and on schedule over the past decade. …
Bent Flyvbjerg, a professor at the University of Oxford who has studied scores of projects around the world, found that 92 percent of them overran their original cost and schedule estimates, often by large margins — in part, he said, because cost estimates are "systematically and significantly deceptive."…
In a candid admission of how the political world operates, Willie Brown, the former mayor of San Francisco, once dismissed cost overruns on a transportation hub intended for the bullet train.
"In the world of civic projects, the first budget is really just a down payment," he wrote in a guest newspaper column in 2013. "If people knew the real cost from the start, nothing would ever be approved. The idea is to get going. Start digging a hole and make it so big there's no alternative to coming up with the money to fill it in.""
"People say over and over again, 'Oh, the millennials are going to stay in the cities.' They are not," said Doug Shepherd, a real-estate broker based in the city of Riverside. …
"California is changing because of a desire of many millions of people to have something that looks like the conventional, traditional California Dream: a house on a lot in a neighborhood of similar houses on lots," Mr. Waldie said. …
Last year, a half-dozen families left Eastvale for Montgomery County, Texas, a suburb of Houston near lakes and resorts.,/p>
Michele Nissen, a former city manager of Eastvale, was among them. She sold her house in June for $910,000, 3½ times what she paid for it in 2001.
Now, she and her husband own a 3,500-square-foot, four-bedroom home surrounded by dozens of trees and down the street from Lake Conroe. They paid $532,500."
"Texas, now, feels a bit like California did when I first moved here in the late 1980s — a thriving, dynamic place where it doesn't take a lot to establish a good life. For many people, that's more than enough."
"The Austin metropolitan area is on track to become by year's end the least affordable major metro region for homebuyers outside of California. It has already surpassed hot markets in Boston, Miami and New York City."
"In 1999, Houston enacted new land-use regs that set in motion two decades of the city's expansion. Developers prioritized multifamily townhouses and encouraged migration from other states and countries. These changes led to a 21% increase in developed land."
Finally, closing with a bit of meme humor… ;-D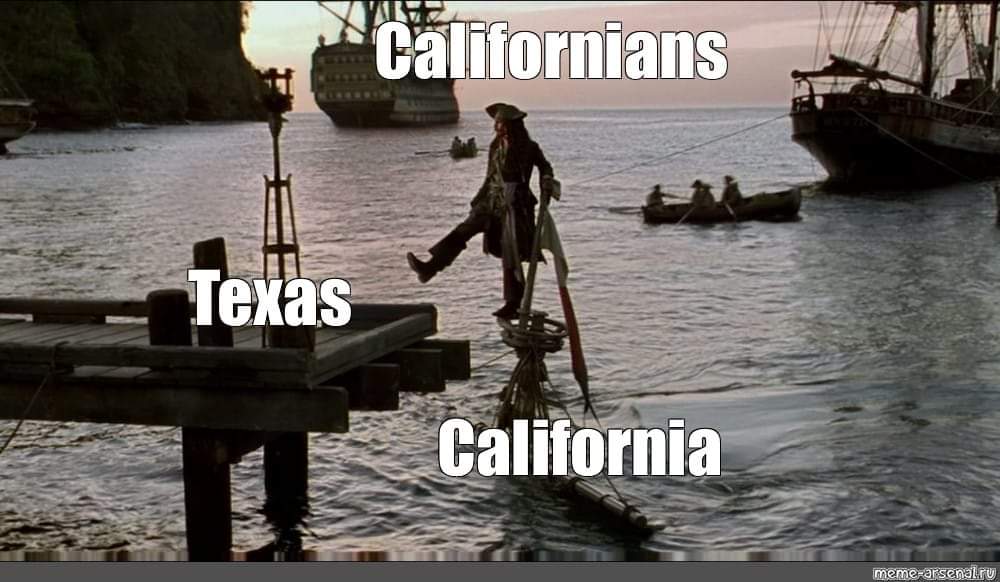 This piece first appeared on Houston Strategies.
Tory Gattis is a Founding Senior Fellow with the Urban Reform Institute (formerly Center for Opportunity Urbanism) and co-authored the original study with noted urbanist Joel Kotkin and others, creating a city philosophy around upward social mobility for all citizens as an alternative to the popular smart growth, new urbanism, and creative class movements. He is also an editor of the Houston Strategies blog.
/wp-content/uploads/2020/03/URI-logo-claret.png
0
0
Tory Gattis
/wp-content/uploads/2020/03/URI-logo-claret.png
Tory Gattis
2021-12-07 16:21:25
2022-10-05 11:44:05
Preventing big infrastructure failures, mass migration to Texas and more