Houston Should Learn from the Future of Public Transit in Las Vegas
This week we have an excellent guest post about the future of public transit from Oscar Slotboom, author of Houston Freeways.
Tory and I regularly post about the painful reality of traditional public transit: the extremely high cost of rail facilities, low and declining ridership, susceptibility to events like Covid, and the ongoing need for more subsidies from taxpayers.
Of course, we're not the only ones to notice the poor results of large public transit expenditures. Entrepreneur extraordinaire Elon Musk has established The Boring Company, and its first project at the >Las Vegas Convention Center has been operational since June. The firm is now poised to proceed with a large 100% privately financed Las Vegas system that is expected to provide a monumental improvement in public transit service quality, which should also bring increased ridership.
For those not familiar, the Boring Company will build tunnels and move transit customers through the tunnels with autonomous electric Tesla vehicles. The key features are on-demand service, private vehicles, and high-speed point-to-point express service. Regular readers know that Tory and I are supporters of a regional express lanes network for Houston which has the potential to provide this same level of service.
Here is a map of the proposed Las Vegas Loop transit system: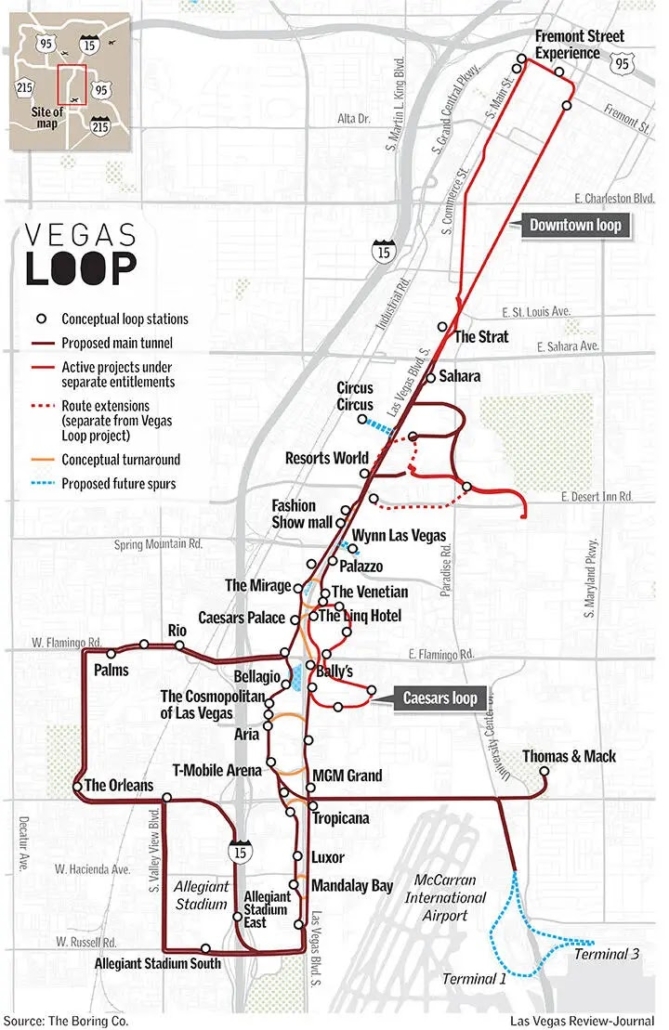 Here is a photo of a station at the Las Vegas convention center: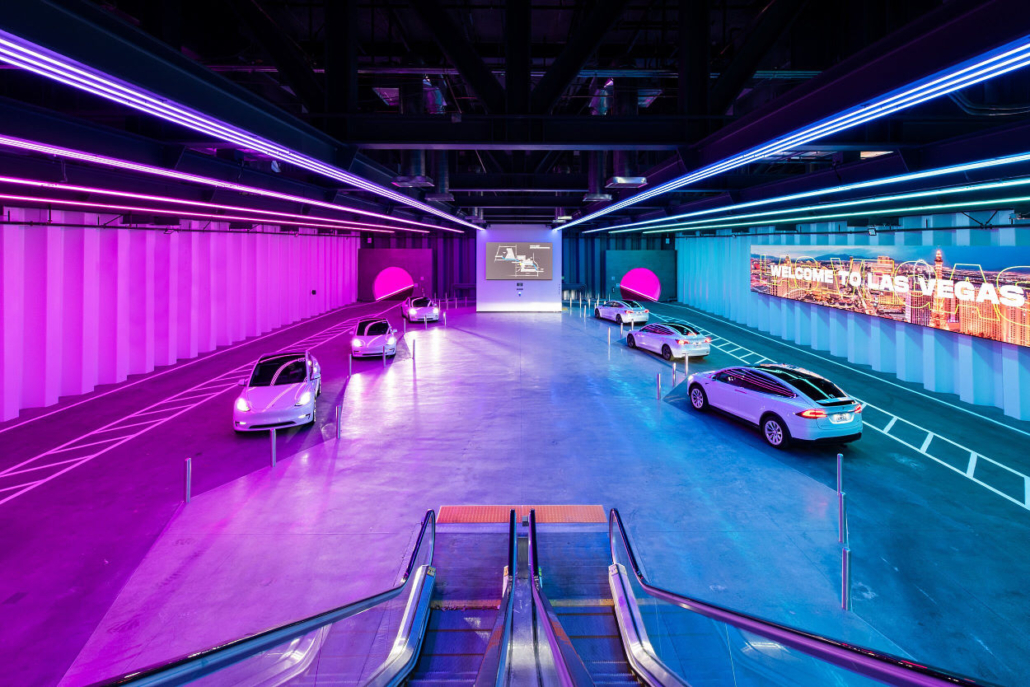 The Las Vegas Review Journal reported on the plan for the Las Vegas system on October 20 and Oct 14. The improvement over traditional public transit is so large it's mind-boggling. Here are some key points from the articles.
Point-to-point service will provide a drastic speed improvement over traditional public transit. Metro's light rail lines have an average speed of 14 miles per hour.
"The system is planned to be a point-to-point system, so passengers won't have to stop at each station along the way. A rider could get picked up at the Las Vegas Convention Center, for example, and be directly transported to Allegiant Stadium without having to stop at each resort along the way.
Davis said a 3.6 mile ride between the Las Vegas Convention Center and Allegiant Stadium would take 4 minutes and cost $6 per vehicle."
That's 54 miles per hour!!
Metro's annual report does not directly report a cost per transit trip, but we can get an average value by using overall numbers. For Metro's most recent fiscal year not affected by Covid (2019), Metro reported 89,951,217 boardings, transit fares of $75,294,678, scheduled service operating expenses of $420,755,621 and total operating expenses of $854,335,088. So pre-Covid, Metro was collecting 84 cents per boarding but spending $4.68 per boarding in direct operating cost and a shocking $9.50 overall cost per boarding. So the reported Las Vegas vehicle fare (not person fare) of $6 is well below Metro's fully-loaded cost per trip, especially if multiple riders share a vehicle. However, most Metro customers are on trips more than 3.6 miles long.
The Las Vegas service will be on-demand. No more waiting for a bus or train, or needing to be concerned about getting to the stop on time.
"[You] walk into a station and the vehicle is waiting for you. And go directly to your (destination) station, you can really solve the traffic problem."
The capacity of the planned 15 mile system is very high. In September 2021 Metro served 151,000 weekday trips, down from 303,000 weekday trips just before Covid.
"Once fully operational, Davis said the system is expected to handle 57,000 riders per hour."
We all know how the entrepreneurial culture of SpaceEx has empowered the SpaceEx Dragon launch system to outperform the competing Boeing Starliner, which is plagued by delays and technical problems. The Boring Company's new thinking about transit has the potential for massive gains in financial performance. The entire 15-mile dual loop system is slated to be built in 3 years at no cost to taxpayers. No more waiting decades to get infrastructure built. And while tunnels built by public transit agencies are now absurdly and obscenely expensive, typically $500 million to $1 billion per mile, the smaller and simple tunnels used by the Boring Company can keep the cost feasible.
"The entire system will be funded privately, with no taxpayer money used to construct it.
Boring will have three years to complete construction or have at least a portion of the system that is in the county's right-of-way in operation."
The system has the potential to be a source of revenue for local government, instead of being the ongoing money pit of traditional public transit. Remember, once upon a time (1950s and before) public transit was a private, for-profit activity in most U.S. cities and did not require taxpayer subsidy.
"Boring would be required to pay the county a quarterly franchise fee dependent on how much revenue is generated each quarter. Quarterly gross revenue less than or equal to a threshold of $17.5 million would result in a 0.5 percent quarterly payment of that gross revenue to the county. If quarterly gross revenue surpassed $17.5 million, Boring would pay the county 0.5 percent of the first $17.5 million and 5 percent of any revenue in excess of that."
Sure, the Las Vegas Strip is a special case due to the high demand for service on the corridor, and we can't expect Houston or other low-density cities to match a Las Vegas system. But the key takeaway is the three features for providing successful transit service in the future: on-demand service, private vehicles, and high-speed point-to-point express service. With the revolutionary service improvement provided by these features, we can expect increased transit patronage and the associated benefits for regional mobility.
Houston's future transit system should strive to achieve these goals, and as technology advances it should become feasible to provide this level of service on non-tunnel dedicated or shared facilities, such as bus rapid transit facilities and managed MaX lanes. By using BRT facilities and managed lanes, the construction cost will be lower and the average trip cost should also be lower. I can envision a hybrid system, where tunnels are used in high-congestion areas like downtown, Uptown, and the Texas Medical Center, while lower-cost surface or elevated guideways are used elsewhere.
While Houston may not be able to command a concession fee like Las Vegas, we can envision a public-private partnership where public funds may be used to contribute to construction costs, lower trip costs, and/or provide fare relief for low-income customers.
Let's hope Houston's leadership will closely follow the developments in Las Vegas and position Houston to become a leader in public transit of the future.
This piece first appeared on Houston Strategies.
Tory Gattis is a Founding Senior Fellow with the Urban Reform Institute (formerly Center for Opportunity Urbanism) and co-authored the original study with noted urbanist Joel Kotkin and others, creating a city philosophy around upward social mobility for all citizens as an alternative to the popular smart growth, new urbanism, and creative class movements. He is also an editor of the Houston Strategies blog.
https://urbanreforminstitute.org/wp-content/uploads/2021/11/convention-center-photo.jpg
834
1250
Tory Gattis
/wp-content/uploads/2020/03/URI-logo-claret.png
Tory Gattis
2021-11-23 20:50:53
2022-10-05 11:44:14
Houston Should Learn from the Future of Public Transit in Las Vegas