Spiraling Admin Costs + Strong Toll Revenue Recovery at HCTRA
Toll revenue recovery at Harris County Toll Road Authority (HCTRA) is strong, but admin costs have skyrocketed. This week we have part 1 of 2 always-excellent blog posts by guest author Oscar Slotboom on HCTRA.
The Harris County Toll Road Authority recently posted its annual report for the 2022 fiscal year, which ended February 28. Of course, fiscal year 2021 (plotted as year 2020 in the charts) was heavily impacted by Covid, with revenue down 35.5%.
Anyone who drives the toll roads (including me) knows that the traffic recovery has been strong. Toll revenue rebounded to $808.9 million, 5.4% below the $855 million peak in 2019 and 13.7% below the peak using inflation-adjusted dollars.
The Katy Managed Lanes had a very strong revenue recovery from 2020's $8.9 million, posting $18.6 million in revenue, which is 17% below the 2018 peak in actual dollars and 26% below 2018 using inflation-adjusted dollars.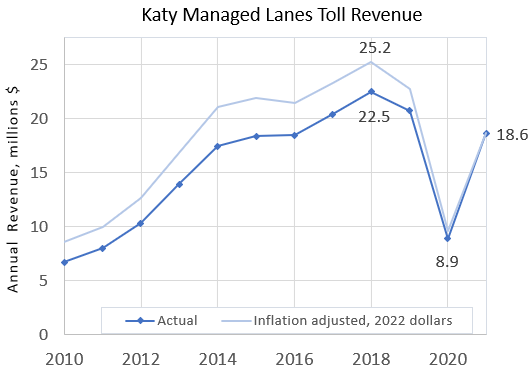 However, if you look at Schedule 1 on page 53 and schedule 5 on page 57, you'll see that 10 of 14 toll system segments showed a higher traffic count and higher revenue in 2022 (2021 in the charts) compared to 2020 (2019 in the charts), including a new record high for any segment in a year, $129 million on the Sam Houston Tollway North (US 290 to IH-45 North). The four segments with lower revenue were only slightly down. So why is overall toll revenue 5.4% below 2020?
The answer: A massive increase in administration cost.
Read the rest of this piece at Houston Strategies.

Tory Gattis is a Founding Senior Fellow with the Urban Reform Institute (formerly Center for Opportunity Urbanism) and co-authored the original study with noted urbanist Joel Kotkin and others, creating a city philosophy around upward social mobility for all citizens as an alternative to the popular smart growth, new urbanism, and creative class movements. He is also an editor of the Houston Strategies blog.
https://urbanreforminstitute.org/wp-content/uploads/2018/12/Houston-TX-HOV-lane-Highway69.jpg
600
1200
Tory Gattis
/wp-content/uploads/2020/03/URI-logo-claret.png
Tory Gattis
2022-09-20 14:37:54
2022-10-05 11:08:35
Spiraling Admin Costs + Strong Toll Revenue Recovery at HCTRA