Where United Airlines Should Establish a New Hub
This week's post has nothing to do with Houston other than United has its second-largest hub here, and what's healthy for United tends to be healthy for Houston (barring a monopoly ;-). I'm a bit of an amateur aviation nerd going back to my McKinsey days, and I had a random crazy thought this week: United has a ton of planes and crews sitting around doing nothing right now during the pandemic – they could literally create an instant hub somewhere if they wanted to (assuming they could get the gates). But where?
Where a new hub for United Airlines works best geographically
United actually has well-positioned hubs covering most major domestic and international regions. But they do lack good coverage in the southeastern US like Delta does from Atlanta (world's largest hub) and American does from Charlotte. Additionally, Houston serves as a great United hub to Latin America for the central and western US, but is not geographically well-positioned for serving the eastern US the way American is with its hub in Miami. Is there somewhere United could establish a hub that does some combination of what Charlotte and Miami do for American?
The pandemic has made this even more important, as the rise of remote work is driving a huge migration from the north to Florida and even the Caribbean.  United sensed this migration early and quickly established a wide range of non-hub flights to better serve Florida. And no matter what you think about the future of the pandemic, remote work has now been absolutely normalized.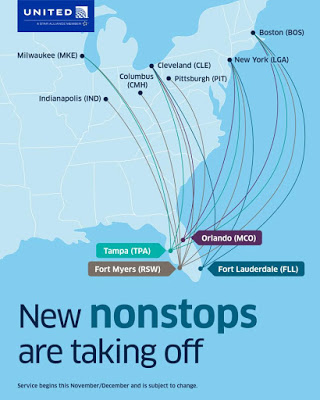 But where should they go if they want to take this first step to the next level and actually establish a new hub?  A few options can be quickly eliminated:
Atlanta and Charlotte are already taken by Delta and American respectively
Raleigh-Durham is too close to IAD Washington DC Dulles (already a United hub)
Miami is already an AA hub facing increasing competition from Delta and Southwest
Fort Lauderdale and Orlando have incredible amounts of low-fare competition from Southwest, JetBlue, Spirit, Frontier, and others.
Fort Myers is too small to support a hub (679,000 MSA population) as is Jacksonville (1.5m)
Where a new hub for United Airlines makes economic sense
The really intriguing alternative that remains: Tampa. The Tampa Bay metro area has a population of 3.2 million, the 18th-largest metro in the country – larger than Denver, Charlotte, or Salt Lake City which all support substantial hubs. It's also one of the fastest-growing (nearby Lakeland as well), and has manageable low-fare competition. The housing is far more affordable than the Miami area.  It's also about an hour from Walt Disney World, the largest tourist attraction in the country (soon to be connected by the Brightline train).  And it's not just tourists – there are plenty of business travelers as well (United's core market).  Tampa has been steadily growing its corporate presence – especially financial – and it's the center of Florida's High Tech Corridor.
A friend of mine threw together some potential United route maps from a Tampa hub (hat tip to Daniel!).
As you can see, it's much better geographically from the eastern US to the Caribbean and Latin America than Houston is.  Would it cannibalize traffic from IAH?  Based on American's service to the same region from DFW and Miami (the equivalent of United's IAH and Tampa), we don't think so.  DFW has Latin service nearly as comprehensive as IAH despite American's Miami hub. The two hubs actually reinforce and support each other and give American a dominant position in Latin America.  United could challenge that dominance with a combination of Houston, Tampa, and Newark/NYC.
Florida is the third-largest state in the country at 22 million and growing fast. United needs a strong presence there to match its strength in other top five states like California (38m), Texas (28m), New York (20m), and Illinois (13m).  A hub (or at least a strong focus city) in Tampa is the best strategic option for them to tap that market. This pandemic will reshuffle the airline pecking order – why play defense when they can seize the initiative and fill a long-standing and growing gap in their route network while also putting more planes and crews to work?
This piece first appeared on Houston Strategies Blogspot.

Tory Gattis is a Founding Senior Fellow with the Center for Opportunity Urbanism and co-authored the original study with noted urbanist Joel Kotkin and others, creating a city philosophy around upward social mobility for all citizens as an alternative to the popular smart growth, new urbanism, and creative class movements. He is also an editor of the
Houston Strategies
blog.
Photo credit: Raimond Spekking, under CC 4.0 License via Wikimedia
https://urbanreforminstitute.org/wp-content/uploads/2020/09/United_Airlines_-_N36472_-_Boeing_737-924ER_-_San_Francisco_International_Airport-0707.jpg
720
1280
Tory Gattis
/wp-content/uploads/2020/03/URI-logo-claret.png
Tory Gattis
2020-09-08 11:19:12
2022-10-05 11:38:16
Where United Airlines Should Establish a New Hub