Klineberg plugs Houspitality, HTX outbuilds NYC, escape from New York, and more
Still working through the backlog of smaller items – almost caught up! But first, if you're looking for something new to read during this lockdown, I wanted to suggest a new book from Rice's Stephen Klineberg: The Prophetic City – Houston on the Cusp of a Changing America, all about how we've evolved over recent decades through the lens of his annual Houston Area Survey. Houston Strategies and Houspitality get a mention! (you can search inside the book at Amazon)
"Physical distancing will cut transit capacity to 15-25% of normal, but use of PPE could increase capacity to 40%."
NYT: The Agonizing Question: Is New York City Worth It Anymore? For many, the call of an easier, safer and more affordable life beckons. But die-hard New Yorkers find the city more appealing than ever. The new Escape from New York… 420,000 already gone in three months is a staggering number! Obviously many are temporary. But there are also probably tons of people still there that have decided to leave but are waiting out their leases.
"New Yorkers have been fleeing for months. But the fear some residents have of the violent reactions to the protests here is adding a new challenge to those asking themselves whether they can hack the city. Many are deciding not to return.
"It's a decision that must be made individually and privately, one that some 420,000 New Yorkers with the resources to do so had already made between March and May in reaction to the pandemic, according to cellphone data analyzed by the Times."
"For some, it's a chance to be closer to family, which feels more urgent in the midst of a global health scare. For a large swath of people in the country's most expensive cities, it's a way to get more living space and be closer to nature, something increasingly made possible by the growing trend of remote work. And for many others it's not really a decision at all, but a necessity in the face of growing job losses and still sky-high rents.
"…And people in cities hit hard by the pandemic — New York, San Francisco and Seattle — are searching for remote work opportunities significantly more than the rest of the country, LinkedIn data shows. Some real estate data suggests many are already considering or making a move to a smaller town or suburb. Real estate company Redfin said page views of homes in small towns more than doubled during the last week of April compared with last year.
"… She said she's hearing from mostly young families — professionals with small children — who want to trade the confines of a locked down New York City for houses with home offices and yards.
"It's no longer temporary. People are saying, 'I'm not going back. This could happen again and we don't know when it's going to end,'" said Bernstein.
"New York doesn't feel worth it anymore," he said.
"Maybe soon-to-be-defunct Malls could offer satellite space with a food court.  Malls are changing, maybe there is a synergy there."
"Houston and NYC both issued around 61k permits in 2019. But metro New York City is nearly 3 times bigger than metro Houston, meaning its construction activity in 2019 (30.4 permits per 10k residents) was much less than Houston's (88.3 permits per 10k)."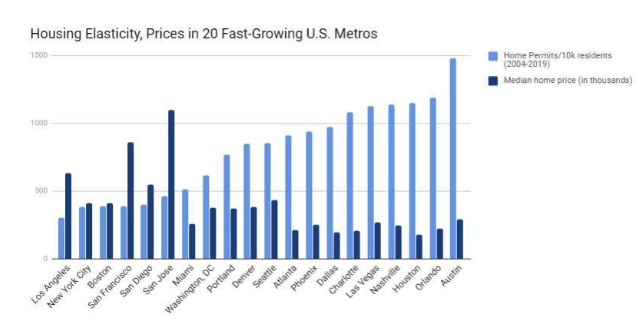 Cities With the Most Self-Employed Workers. Houston is #15 by percentage, but #3 by total numbers with 330,415, behind NYC and LA.  Miami is #1, I assume because drug smugglers are considered "self-employed" (just kidding! watched too much Miami Vice as a kid, lol 😉
Cool new IAH T-shirt with the awesome Be Someone bridge graffiti on the back. The 'Be Someone' sold me! The shirt will help remind you there used to be these things called "planes" that took us to and from places called "airports" before the pandemic…?
City Combined Taxpayer Burden Report 2020. Houston has a combined local government debt burden of $25,800 per taxpayer, which is the 4th lowest of the top ten cities, and far better than NYC at $83,600 and Chicago at a whopping $122,100! Looking at their math, they have ~681k taxpayer households for Houston, which sounds about right for a city of 2.3m. Hat tip to Charles.
Finally, I wanted to end with a short video from the KAS Strong Cities 2030 project that I've been involved with the last couple of years.  They put together clips of how different cities are dealing with the Covid-19 crisis, including yours truly at the 1:49 point (albeit recorded a couple of months ago and a bit dated at this point).
This piece first appeared on Houston Strategies.

Tory Gattis is a Founding Senior Fellow with the Center for Opportunity Urbanism and co-authored the original study with noted urbanist Joel Kotkin and others, creating a city philosophy around upward social mobility for all citizens as an alternative to the popular smart growth, new urbanism, and creative class movements. He is also an editor of the
Houston Strategies
blog.
Photo: screenshot from KAS Strong Cities 2030 video (above).
https://urbanreforminstitute.org/wp-content/uploads/2020/06/Gattis-on-Houston-post-pandemic.jpg
674
1200
Tory Gattis
/wp-content/uploads/2020/03/URI-logo-claret.png
Tory Gattis
2020-06-08 09:14:08
2022-10-05 11:30:17
Klineberg plugs Houspitality, HTX outbuilds NYC, escape from New York, and more