By Joel Kotkin & Wendell Cox…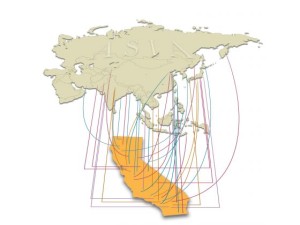 California, our beautiful, resource-rich state, has managed to miss both the recent energy boom and the renaissance of American manufacturing. Hollywood is gradually surrendering its dominion in a war of a thousand cuts and subsidies. California's poverty rate – adjusted for housing costs – is the nation's worst, and much of the working class and lower middle class is being forced to the exits. Our recent spate of high-tech growth has created individual fortunes, but few jobs, outside the Bay Area. The agricultural heartland is suffering not only from drought, but from green policies that allow a torrent of unused water to flow into the Sacramento Delta and San Francisco Bay while huge parts of the Central Valley go fallow.
But California retains one powerful trump card that our leaders in Sacramento have not yet found a way to squander: its link to Asia. True, the state's growth-restrained ports are increasingly tied up, and, over time, much of our trade with China and other Asian countries might pass, instead, through the Panama Canal en route to Houston and other ports. But geography, culture and family ties have a way of overcoming even the most deluded policy environments.
In the 19th century, many in California railed against the "Asian invasion," and led the drive to restrict Asian immigration to America. As early as 1850, Asians accounted for one-tenth of the state's non-native American population. Early on, Chinese, Indian and Japanese immigrants showed remarkable ingenuity, largely as farmers and merchants, which only made whites more antagonistic. "Indispensable as the Chinese are," one grower report admitted, "they must go, as gradually as possible."
California still golden 
Despite mistreatment here, Asians never lost their appetite for California. Its beaches, mountains, mild climate, rich soil and cultural legacy made the state irresistible to many. Since the liberalization of immigration rules in the 1970s, California has been the primary beneficiary of Asian immigration to the United States and is home to nearly one-third of the Asian American population, versus a 12 percent share of the overall U.S. population.
Today, Asians – primarily from India, China, Vietnam, Korea and the Philippines – are the nation's largest source of legal immigrants, constituting 40 percent of new arrivals in 2013. They cluster heavily in California. Of all American cities over 50,000 population, 18 of the 20 most-heavily Asian are in our state. The other two are Sugarland, Texas, a fast-growing Houston suburb, and Honolulu, long a center of Asian settlement.
Although many immigrants struggle, notably Hmong, Laotians and Bangladeshis, overall, Asians have done very well in California and across the country. They, according to a 2013 Pew study, constitute the country's highest-income, best-educated and fastest-growing racial group. Overall, Asians – notably Indians, Chinese and Koreans – do better, or at least as well, as whites. According to data from the Public Policy Institute of California, Asians lead all ethnicities in the state in college educations and higher incomes.
Titans of tech 
Asians constitute a large, and growing, portion of the state's technology workforce – constituting a majority of tech employees in Silicon Valley. Six of the state's most-heavily Asian cities are in Silicon Valley, led by No. 1 Cupertino, home of Apple Computer, and which, by 2010, was 65 percent Asian, up from 44 percent in 2000. Other Asian majority cities in Silicon Valley include Milpitas, Daly City, Fremont and Union City. Sunnyvale, long a high-tech center, was more than 41 percent Asian in the 2010 Census. The tech sector, upon which California's future seems inevitably dependent, received Chinese investment last year at $500 million, up from $200 million in 2010.
Southern California has its own concentration of high-tech cities with large Asian populations. The largest is Irvine, which was more than 39 percent Asian in 2010. Westminster, home of Little Saigon, was roughly 48 percent Asian in 2010, and Asians that year were more than 38 percent of residents in Fountain Valley, home of standout tech firm Kingston Technologies.
In the Los Angeles area, the biggest concentration of Asians is in the San Gabriel Valley, which has long had a strong tech sector tied first to Taiwan and, increasingly, to China. In addition, the area has nurtured a remarkable collection of Chinese-owned banks, and boasts what some argue is the best Chinese food on the continent.
Embrace of suburbia
Where are Asians heading in California? The answer here – as well as most of the country – is: suburbia. Approximately 69 percent of Asians live in suburban areas of major U.S. metropolitan centers, with Asian suburban growth nearly twice as fast as in the core cities. The situation is nearly the same in California. In fact, San Francisco, the traditional center of Asian America, ranked 22nd on the U.S. list in 2010, with an increase of only 8 percent. San Jose, the other large city with a large Asian contingent, increased by 22 percent and ranked 23rd. Each is roughly one-third Asian, a lesser share than 18 smaller, largely suburban California cities.
More important still, more than two-thirds of the growth of Asians in California is in suburban locations. Some retro-urbanists suggest Asians might not mind high-density housing and relying on transit – as is often the case in their homelands – but it appears that, when they come to California, they are looking for lower-density and, often, single-family homes. From 2000-11, for example, the Asian population of central Los Angeles, including Downtown, grew by 8 percent while it expanded by 80 percent in Irvine and South Orange County.
Nor is this merely a matter of small areas with big percentage increases. There are now nearly 500,000 Asians in the suburban San Gabriel Valley alone, more than twice as many as reside in the central L.A. area, home to such historic districts as Little Tokyo, Koreatown and Filipinotown. The second-largest concentration – of more than 380,000 in 2011 – is in Anaheim, Santa Ana and surrounding cities. Orange County's Asian population during 2000-11 grew by more than 50 percent, or nearly 200,000 people, almost twice the rate of growth seen in Los Angeles. And the greatest growth, of more than 100 percent, occurred in the Inland Empire, which has a lower urban density than in the Los Angeles-Orange County.
Critical to future 
Given the already large base and continued growth trends, we can expect Asian influence to continue growing throughout California. One critical factor: Unlike many other groups, immigrants from Asia – 62 percent of whom are foreign-born in Orange County – come from countries with much higher real estate prices.
To them, that $1.2 million home in Irvine not only is nicer than anything they could dream of owning in Seoul, Tokyo, Hong Kong, Beijing or Shanghai, but also nicer, cleaner and with far better amenities such as good public schools, parks and trails. If Asians, including many from China, are driving up prices in Manhattan or Vancouver high-rises, much the same in happening in Irvine or the nicer sections of the San Gabriel Valley.
But if this housing inflation hurts prospects for many California middle- and working-class families to own a home, there are many positives coming from Asians' very high level of entrepreneurial activity. California, according to the most-recent economic census, accounts for roughly one-third of all Asian-owned U.S. business. The Southland is particularly strong; Los Angeles County ranks first in this category and Orange County third. The New York City borough of Queens ranks second.
Asian communities also have become key conduits for new investment funds; the number of mainland Chinese-owned businesses in Los Angeles County has increased fivefold over six years. Asian investment is providing a much-needed injection to a still largely tepid U.S. economy. This extends from a spate of hotel construction in El Monte in the San Gabriel Valley to the new Hyundai U.S. headquarters in Fountain Valley. A Korean Air office tower going up in Downtown Los Angeles, upon completion in 2017, will be the tallest building on the West Coast.
Once feared and disdained by many Californians, Asians are now becoming ever more critical to the economic revival in the state. Their influence is certain to grow, and, for the rest of us, this has to be seen, on balance, as a very good thing, indeed.
Joel Kotkin is the R.C. Hobbs Fellow in Urban Studies at Chapman University in Orange and executive director of the Houston-based Center for Opportunity Urbanism (www.opportunityurbanism.org). His most recent book is "The New Class Conflict"
(Telos Publishing: 2014).
Wendell Cox is principal of Demographia, a St. Louis-based public policy firm, and was appointed to three terms on the Los Angeles County Transportation Commission.
Save
https://urbanreforminstitute.org/wp-content/uploads/2015/04/nkykso-morris.asia_.calif_.030815.illus_.jpg
420
560
Mike New
/wp-content/uploads/2020/03/URI-logo-claret.png
Mike New
2015-04-02 14:06:11
2016-09-21 19:19:03
Asian augmentation