LARGEST 1,000 CITIES ON EARTH: WORLD URBAN AREAS: 2015 EDITION
by Wendell Cox 02/02/2015
According to the just released 11th edition of Demographia World Urban Areas (Built-Up Urban Areas or World Agglomerations), there are now 34 urban areas in the world with more than 10 million residents, the minimum qualification for megacity status. Tokyo-Yokohama continues its 60 year leads the world's largest urban area. Before Tokyo-Yokohama,New York had been the world's largest urban area for 30 years.London's run, preceding that of New York, was much longer, at more than 100 years. Beijing, which was the first of today's megacities to reach 1,000,000 population, held the title for 75 years before London, according to census and urban historian Tertius Chandler.
Demographia World Urban Areas is the only regularly published compendium of urban population, land area and density data of urban areas with 500,000 or more population (defined in the Note below). The 2015 edition provides coordinated population, urban land area and density data for all 1,009 identified urban areas with at least 500,000 population. These urban areas account for approximately 52 percent of the world urban population.
Largest Cities in 2015
Tokyo-Yokohama grew to 37.8 million residents, the largest urban area population ever recorded (Figure 1). But second ranking Jakarta is moving up quickly, becoming the second urban area in history to exceed 30 million residents (30.6 million). Regrettably, Jakarta (Figure 2) is often left off world city top ten lists, because the continuous urbanization extending into the regencies (Figure 2) of Tangerang, Bogor, Bekasi and Karawang usually excluded (see The Evolving Urban Form: Jakarta). Regencies are national second level jurisdictions, within the provinces that make up Indonesia.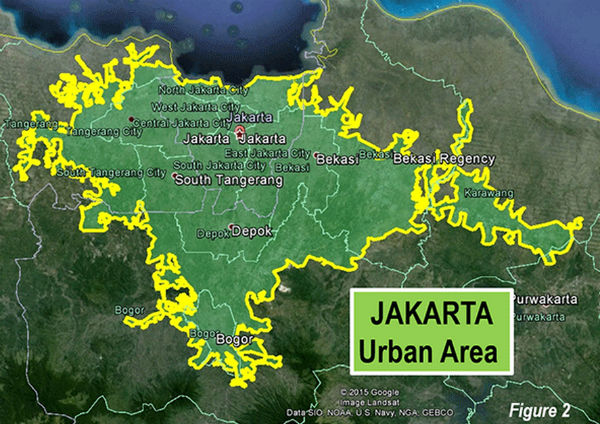 Fast growing Delhi retained third position, rising to just under 25 million. Later this year, Delhi will be only the third urban area in history to exceed a population of 25 million. Surprisingly, Delhi is nearly 50 percent larger than Mumbai, which is commonly considered to be India's largest urban area. The Census of India does not allow its urban areas to cross state boundaries, which has continued to result in an under-reporting of Delhi's population. Demographia, and the United Nations, have been reporting a higher population level as a result of Delhi's interstate urban extensions. Many urban areas extend across state, provincial or prefectural boundaries, such as New York, Ottawa, Tokyo-Yokohama, Mexico City,  Buenos Aires, Manila, Seoul-Incheon, Cairo,Shanghai among  others.
The developing world continued its increasing domination of world's largest cities. This year, Manila passed Seoul-Incheon to become the world's fourth largest urban area. Like Jakarta, Manila is often left off top ten lists of the world's cities, because the continuous urbanization extending into the provinces of Cavite, Laguna, Bulacan and Rizal and are excluded (see The Evolving Urban Form: Manila).
Seoul-Incheon is at risk to falling another position by 2016. At 24.9 million, Seoul-Incheon's leads sixth ranked Shanghai by less than 70,000. The last four positions in the top ten are occupied by Karachi, Beijing, New York and Guangzhou-Foshan. Karachi's position, however, is hard to quantify, because it has been nearly two decades since the last census and the current estimates could be unreliable. New York, along with Tokyo-Yokohama and Seoul-Incheon is only one of three high-income world cities in the top 10.
Beijing and Guangzhou-Foshan are new entries to the top ten, having displaced Mexico City andSao Paulo. These two Latin American cities have long been among the fastest growing in the world and were headed toward much higher rankings. However, their growth has slowed materially, and they are now ranked in the second 10. Nearby Campinas is now growing faster than Sao Paulo and Toluca is exceeding the percentage growth of Mexico City. There was a time that demographers expected Mexico City to become the largest city in the world. In 2000 and 2005, the United Nations ranked Mexico City as second only to Tokyo-Yokohama.
As indicated in a recent article (World Megacities: Densities Fall as they Become Larger), the number of megacities rose from 29 to 34 (megacities are urban areas with more than 10 million residents). These include Tianjin and Chengdu in China, Lahore (Pakistan), Kinshasa (Democratic Republic of the Congo) and Lima (Peru). China now leads the world with six (Shanghai, Beijing, Guangzhou-Foshan, Shenzhen, Tianjin and Chengdu). The ten largest urban areas are shown in Figure 3 and detailed population data is in Table 1 of World Urban Areas.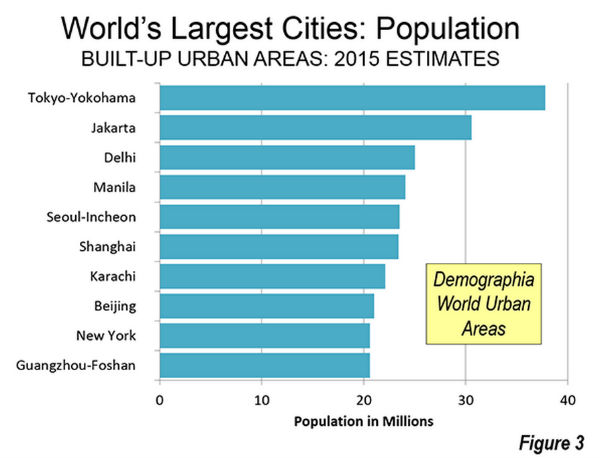 Urban Footprints and Urban Density
The title of the world's largest urban footprint — what some may call "sprawl" —- is held by the New York urban area. Often seen as the epitome of successful dense development (a characterization that applies only in its geographically much smaller core area), the New York urban area itself constitutes the least dense megacity in the world. New York covers nearly 4,500 square miles (11,600 square kilometers) and has a population density of 4,500 per square mile (1,800 per square kilometer). It is a surprise to many that even Los Angeles is more dense, the result of its much denser suburbs.
Tokyo-Yokohama covers the second largest land area, at 3,300 square miles (8,500 square kilometers). There are now 29 urban areas covering 1,000 square miles or more (2,590 square kilometers). Not surprisingly, approximately one-half (15) of these are in the United States. Another five are elsewhere in the high income world, such as Paris. There are also eight developing world cities of 1,000 or more square miles, such as Jakarta, Bangkok and Sao Paulo. Urban land area data for all 1,009 cities is in World Urban Areas.
Dhaka, the capital of Bangladesh, remained the most densely populated city, at 113,000 per square mile (4,500 per square kilometer). Detailed population density for the 1,009 cities is in Table 4 ofWorld Urban Areas
Where Urban Population is Growing
Asia's has more than half (57 percent) of the population in cities of 500,000 and more (Figure 4). This is more than four times the population of such cities in North America, five times that of Africa and Europe and approximately six times that of South America. With stagnant population growth in the high income world and declines in some nations, there is every reason to believe that urbanization in North America and Europe will continue to decline relative to that of Asia, Africa and South America.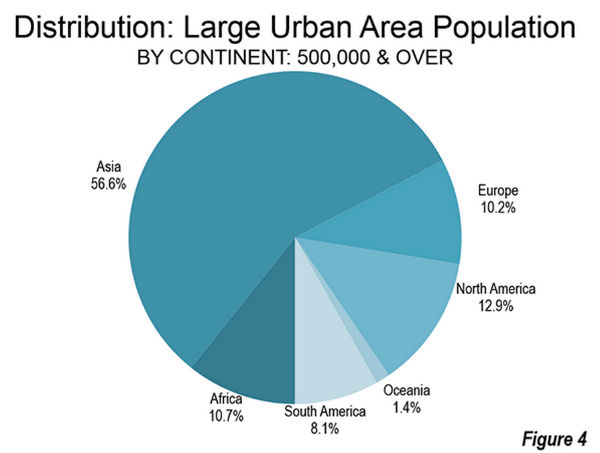 —-
Note: There are two generic definitions of cities: urban areas and metropolitan areas. Urban areas define the physical expanse of cities, which is the area of continuous urban development. The second definition for cities is economic. The economic city is the metropolitan area, which includes the urban area and economically connected territory outside the urban area. The economic relationship is usually determined by work trip data, the extent of commuting from outside to inside the urban area. Because metropolitan areas are always geographically larger than urban areas, they also always have more residents. The difference in geographical sizes can be substantial. The Paris urban area covers only 20 percent of the Paris metropolitan area, a figure close to that of US major metropolitan areas, where urban areas cover only 19 percent of the landin metropolitan areas. The paradox is that metropolitan areas virtually always have more rural land than urban land.
Ideally, urban areas are not defined by local or regional government jurisdictional boundaries, since rural areas are often included in such jurisdictions, especially suburban jurisdictions. Urban development is not constrained by jurisdictional boundaries, nor are urban areas. This causes substantial confusion, because of a general lack of familiarity with urban area concepts, even among experts.
Urban areas are called also called "population centres" (Canada), "built-up urban areas" (United Kingdom, "urbanized areas' (United States), "unités urbaines" (France) and "urban centres" (Australia). The "urban areas" of New Zealand include rural areas, as do many of the areas designated "urban" in the People's Republic of China, and, as a result, do not meet the definition of urban areas above.
Whatever they are called, urban areas are simply the extent of development, which in most cases extends well beyond the boundaries of core municipalities. Demographia World Urban Areas uses the following definition for urban areas.
An urban area is a continuously built up land mass of urban development that is within a labor market (metropolitan area or metropolitan region). As a part of a labor market, an urban area cannot cross customs controlled boundaries unless the virtually free movement of labor is permitted. An urban area contains no rural land (all land in the world that is not urban is considered rural).
Photograph: Lujiazui business district (Pudong), Shanghai, with the nearly complete Shanghai Tower, second tallest building in the world (by author).
Wendell Cox is principal of Demographia, an international public policy and demographics firm. He is co-author of the "Demographia International Housing Affordability Survey" and author of "Demographia World Urban Areas" and "War on the Dream: How Anti-Sprawl Policy Threatens the Quality of Life." He was appointed to three terms on the Los Angeles County Transportation Commission, where he served with the leading city and county leadership as the only non-elected member. He was appointed to the Amtrak Reform Council to fill the unexpired term of Governor Christine Todd Whitman and has served as a visiting professor at the Conservatoire National des Arts et Metiers, a national university in Paris.
https://urbanreforminstitute.org/wp-content/uploads/2015/02/main1.jpg
396
527
Mike New
/wp-content/uploads/2020/03/URI-logo-claret.png
Mike New
2015-02-02 10:24:28
2016-09-22 17:00:35
LARGEST 1,000 CITIES ON EARTH: WORLD URBAN AREAS: 2015 EDITION