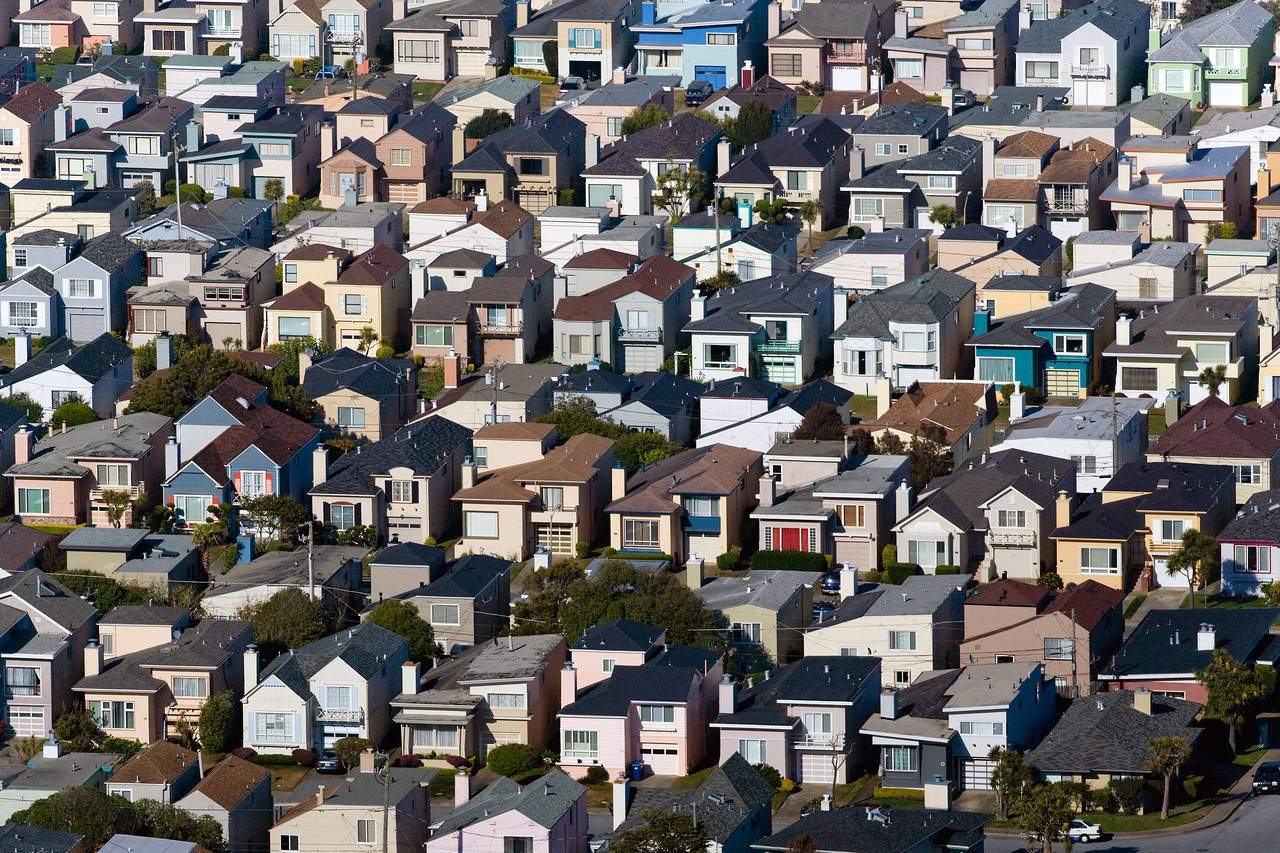 Landless Americans Are the New Serf Class
???While home ownership remains the dream of most Americans, fewer and fewer people here can afford to own one.
The suburban house is the idealization of the immigrant's dream—the vassal's dream of his own castle. Europeans who come here are delighted by our suburbs. Not to live in an apartment! It is a universal aspiration to own your own home. —Los Angeles urbanist Edgardo Contini
For the better part of the past century, the American dream was defined, in large part, by that "universal aspiration" to own a home. As housing prices continue to outstrip household income, that's changing as more and more younger Americans are ending up landless, and not by choice.
The share of homeownership has dropped most rapidly among the key shapers of the American future—"millennials", immigrants, minorities. Since 2000, the home ownership among those under 45 has plunged 20 percent. In places like Atlanta, Dallas-Fort Worth, Houston, and Indianapolis, and elsewhere, households with less than the median income qualify for a median-priced home with a 10 percent down payment, according to the National Association of Realtors. But in Seattle, Miami, and Denver, a household needs to make more than 120 percent of the median income to afford such a median-priced house. Unless they were to rent an apartment, which is always a good alternative but far from perfect. Most residents in Florida are looking for pet friendly apartments in Miami as well as permanent housing. In California, it's even tougher: 140 percent in Los Angeles, 180 percent in San Diego, and over 190 percent in San Francisco.
Rents are rising as well. According to Zillow, for workers between the ages of 22 and 34, rent costs claim upwards of 45 percent of income in Los Angeles, San Francisco, New York, and Miami, compared to closer to 30 percent in Dallas-Fort Worth and Houston.
The basic reality: America's new generation, particularly in some metros, increasingly seems destined to live as renters, without ever enjoying equity in property.
The Housing Crunch
Last year, the gap between new builds and demand was estimated at 330,000 houses. Nationally, the inventory of homes for sale has been shrinking for 24 straight months, and supply, according to the National Association of Realtors, is nearing its lowest level ever.
Given the surging demand among millennials and immigrants, why are builders not meeting the demand? The reasons vary, but, according to the National Association of Homebuilders, they include higher material costs, long permitting waits, labor shortages, and too few inexpensive lots.
Not all the difficulties, however, can be traced to market forces. In many regions of the country, conscious government planning discourages single-family home construction, a policy often described oddly enough as "smart growth." Advocates of this approach suggest that most people, particularly millennials, do not want single-family homes, and prefer to live chock-a-bloc in dense multi-family units.
"An overwhelming majority of millennials, including renters, want a home of their own."
This does not reflect reality. In survey after survey, an overwhelming majority of millennials, including renters, want a home of their own, you can look at the amount of people opting for short term rental apartments from the likes of StayTony Los Angeles and more, so they're able to "live on their own". A Fannie Mae survey of people under 40 found that nearly 80 percent of renters thought owning made more financial sense, a sentiment shared by an even larger number of owners (PDF). They cited such things as asset appreciation, control over the living environment, and a hedge against rent increases. Roughly four in five purchases made by people under 35 are for single-family detached homes (PDF).
The real problem is a growing gap between what people want and what they can afford. Jason Furman (PDF), the former chairman of President Obama's Council of Economic Advisers, has warned that price escalations associated with strong housing regulation push many people "out of the market entirely."
These huge price premiums, particularly stark in California, also plague Denver, Miami, New York, Portland, Seattle, Honolulu, and Boston. Where housing prices once closely tracked rents, they now have shot up in many metropolitan areas far past what renters would ever be able to afford.
In some places the "universal aspiration" has been all but put on hold. Between 1969 and 2015, home prices increased by an inflation-adjusted average of 226 percent in the 10 big metropolitan areas with the largest increases, vastly outpacing the steep enough 65 percent average rise in rents.
Serf's Up in California
California began to embrace highly restrictive housing policies in the 1970s. Prices in places like Los Angeles or the San Francisco Bay Area were already higher then than the national average, but roughly on track when adjusted for income. Today, after four decades of ever tightening controls and draconian regulations, prices adjusted for incomes are now about three times as high in coastal California as those in traditionally regulated markets.
California's efforts to force densification, by locking up peripheral land and other strategies, have been a boon to well-placed urban developers because it limits new suburban competition. Rather than respond to market preferences, people are forced to live the way the planners want, creating conditions that permit developers to impose ever higher rents and housing costs.
Not surprisingly, these policies have produced one of nation's lowest rates of homeownership. The state's largest metropolitan area, Los Angeles, which includes Orange County, has the lowest homeownership rate of the country's 75 largest metropolitan areas. Other regulatory factors that drive up California prices include sky-high impact fees charged to new developments, which can add more than $75,000 to the price of a house, more than 10 times the cost in other states (PDF). The impending 2020 mandate for "zero emissions" homes promises to boost that up to six figures.
These costs have become in a sense a form of generational warfare, as the average age of California homeowners keeps rising. According to American Community Survey data, the share of the state's homeowners over 55 years old has shot up from 41 percent to 55 percent since 2000, while the share of homeowners under 45 years old has dropped by a third. From 1990 to 2016, home ownership among those aged 25 to 34 dropped 18 percent nationally but 26 percent in California. Several economic studies have shown a strong association between high housing prices and net domestic migration, with attention to more than 1 million who have left California for less expensive states since 2000.
Adjusted for housing costs, California has the largest share of its citizens living in poverty.
Despite these ghastly statistics, California officials have kept doubling down on regulations that drive up housing prices, based in part on the dubious notions that packing people together will lower costs and have a major impact on the climate. Most recently, new legislation concocted by San Francisco state Sen. Scott Wiener would establish state-wide mandates that, according to Slate, "ensure that all new housing construction within a half-mile of a train station or a quarter-mile of a frequent bus route would not be subject to local regulations concerning size, height, number of apartments, restrictive design standards, or the provision of parking spaces." Like your quaint urban neighborhood, or quiet suburbia? Too bad. If you live within a half mile of transit lines, developers can build what they want and not even your mayor or city council can stop them.
This planning fever, an unprecedented assault on local control, has elicited widespread opposition from cities, neighborhoods, and even some environmentalists and civil rights leaders. Activists in the Crenshaw district in Los Angeles see in the new rules "a declaration of war on south L.A." Some neighborhoods could literally be "Manhattanized," which may be fine for Manhattan but not for the millions who moved to California for its sun and space.
This drive to intensify development in already densely packed coastal California has strong backing in the academy and the media, and from some powerful real estate and big tech interests, whose primary goal is to house their largely young, single, and often noncitizen workers in dense quarters near their operations.
But the claim that higher density reduces housing costs to affordable levels is largely bogus (again, see Manhattan!). Dense housing is about three to seven times more expensive to build. Combined with the very high cost of land zoned for high-density development, market prices inevitably end up beyond the means of nearly all Californians. New publicly subsidized "affordable" apartments in one dense Bay Area development are estimated to cost upwards of $700,000 to build—more than the cost of two-thirds of all homes in California, according to our analysis of American Community Survey data for 2016.
Larger units suitable for families are increasingly rare, and even more expensive, so even if the market is overbuilt, they will remain overpriced. Indeed, glorified boarding houses in San Francisco are now offering 250-square-foot or smaller units, many with shared kitchens and bathrooms—and rents that begin at about the median for the Bay Area.
As to improving the environment, even the pro-density UC Berkeley Termer Center acknowledges that virtually banning urban fringe development would account for barely 1 percent of the state's plan to reduce greenhouse gases (PDF)—pittance for policies certain to drive house prices and rents even higher. On a global basis, that reduction would amount to an 0.003 percent drop in worldwide emissions.
The Human Cost
The long-term impact of depressed ownership will shape our future. It's no coincidence that the birthrates in the most expensive places—Los Angeles, Seattle, Manhattan, Brooklyn—are among the nation's lowest.
The pressures on millennials, the dominant group shaping the future, are particularly harsh. In the city of New York, incomes for millennials have dropped in real terms since 2000, despite a considerable rise in education levels in that same span (PDF).
Recent Harvard econometric research associated bloated house price increases with a reduction in birth rates among households that do not already own a home of their own. Similarly, high housing prices were cited as a cause to delay having children in a recent Bankrate.com survey. In places where housing prices remain around historic levels, such as Dallas-Fort Worth, Nashville, Orlando, and Houston, birth rates are much higher.
As price pressures push middle-income people into what had been low-income markets in the priciest cities, the neediest find themselves with fewer and fewer rental options, notes the National Low Income Housing Coalition—which counts a 4 million unit national shortfall in truly affordable units. For working-class people in Los Angeles, the Bay Area, New York, and Boston, these higher prices claim an ever-larger portion of their income. Nearly 70 percent of poor Californians see the majority of their paychecks go rents, which continue to rise.
High rents are leaving many at the brink of poverty. Adjusted for housing costs, California has the largest share of its citizens living in poverty—well above the rate for such historically poor states as Mississippi. And homelessness has surged in the priciest places, particularly in Los Angeles and New York City, which account for about 4 percent of the national population but 25 percent of its homeless population.
In New York, the homeless population rose 4 percent last year amidst a strong economy; there are a record 75,000 New Yorkers living in shelters or on the streets. And in Los Angeles County, homelessness surged by a boggling 23 percent in the last year—with the largest increase among Latinos, many still working but unable to pay their rent. In Orange County, long a middle-class bastion, large homeless encampments around the riverbeds have been embarrassing to local officials and sparked widespread concern among the citizenry.
What Happens Next
The reduction in the prospects in homeownership combined with the rising rent burden is leading us toward an ever more unequal society—one increasingly divided by class, color, and generation. Policies that restrict access to homeownership also constitute a direct assault on the future prosperity of the country. Jason Furman calculated that a single-family home contributes 2.5 times as much to the national GDP than an apartment unit. The decline in investment in residential properties has dropped to levels not seen since World War II. Some people, particularly young and middle-class families, are finding their own solution by moving away from densely packed, highly regulated places like San Francisco, L.A., and New York for less glamorous, but more affordable areas like Dallas-Fort Worth, Houston, and Phoenix.
The shift to an ever more unequal, congested, and feudal society is not inevitable.
But even in expensive areas, there remain opportunities to build more housing in ways that do not cause mass displacement or ruin existing neighborhoods. One fantastic opportunity lies in expanding retail vacancies. America has four to five times as much retail space per capita as the United Kingdom or Japan, and Amazon's dominance and changing consumer tastes mean that perhaps 15 percent or more of all mall space will need to be refitted to new uses in the next five years.
Already there are some pilot projects aiming to take advantage of this shift. Savvy developers like Shaheen Sadeghi's LAB Holdings are constructing residential and workspaces into old malls in cities across Southern California, and similar plans are underway in Texas.
But ultimately the most cost-effective way to produce more housing remains the traditional one: development on the urban fringe. This is what happens in lower cost, market-driven models like Dallas-Fort Worth, Houston, or Nashville—which all built both multi-family and single-family housing at faster rates than Los Angeles, San Francisco, New York, Boston, and Portland between 2010 and 2016, according to Census Bureau figures. The density proponents will yell "sprawl." Yet, that is hardly a concern in California, where urban population densities are the highest of any state, including New York. Los Angeles suburban densities are four times those of Boston or Atlanta and double that of New York.
As MIT's Alan Berger has noted, modern suburban development also creates environmental benefits, including water retention, species habitats, tree cover, and improved health outcomes. In addition, suggests Britain's Hugh Byrd, low-density communities are ideally suited for an eventual transition to solar energy generation in ways that high-density ones can't emulate. Over time, Berger foresees self-driving cars allowing for "autonomous suburbs" that will expand living space by reducing commuting times and hassles, a finding as well of a recent report by the global consulting firm Bain & Company (PDF). That would leave more people in the exurbs than in the core cities but also allow the cities to recover space from parking garages to create new housing.
The shift to an ever more unequal, congested, and feudal society is not inevitable. We have the capacity to expand housing opportunities for future generations. There is no reason that we need to surrender the universal aspiration that for so long has defined our society.
https://urbanreforminstitute.org/wp-content/uploads/2016/05/BN-OC699_bkrvsu_M_20160520080207.jpg
853
1280
Joel Kotkin and Wendell Cox
/wp-content/uploads/2020/03/URI-logo-claret.png
Joel Kotkin and Wendell Cox
2018-04-02 10:50:02
2018-04-02 10:50:02
Landless Americans Are the New Serf Class